What is Beat the Peak?
Beat the Peak is a Delaware Electric Cooperative program designed to minimize our power requirements during peak monthly periods.
What does Beat the Peak do?
Delaware Electric Cooperative's Beat the Peak program saves our members money! In 2008, our members saved more than $2 million by reducing our demand and energy requirements during the peak monthly periods.
How does Beat the Peak work?
Your Cooperative pays a monthly demand charge based on the peak hourly usage during the month which accounts for more than 35% of the cost of electricity for our members. The Beat the Peak program incorporates many different smart grid technologies to reduce the peak energy usage during peak monthly periods. In addition, "Beat the Peak" is designed to engage our members to take additional voluntary steps within their homes and businesses to save even more money by reducing energy usage during these periods. It works!
How do I know when a Beat the Peak period will occur?
Your Cooperative is constantly evaluating the weather, time of day and usage patterns to estimate when a Beat the Peak period will occur. We notify our members in many ways. We use television, radio, and print advertisement to announce Beat the Peak periods. We send emails to our members so they can be personally notified of when we think the peak will occur. So, it is extremely important that Delaware Electric Cooperative has your email address on file! Contact us with your email address.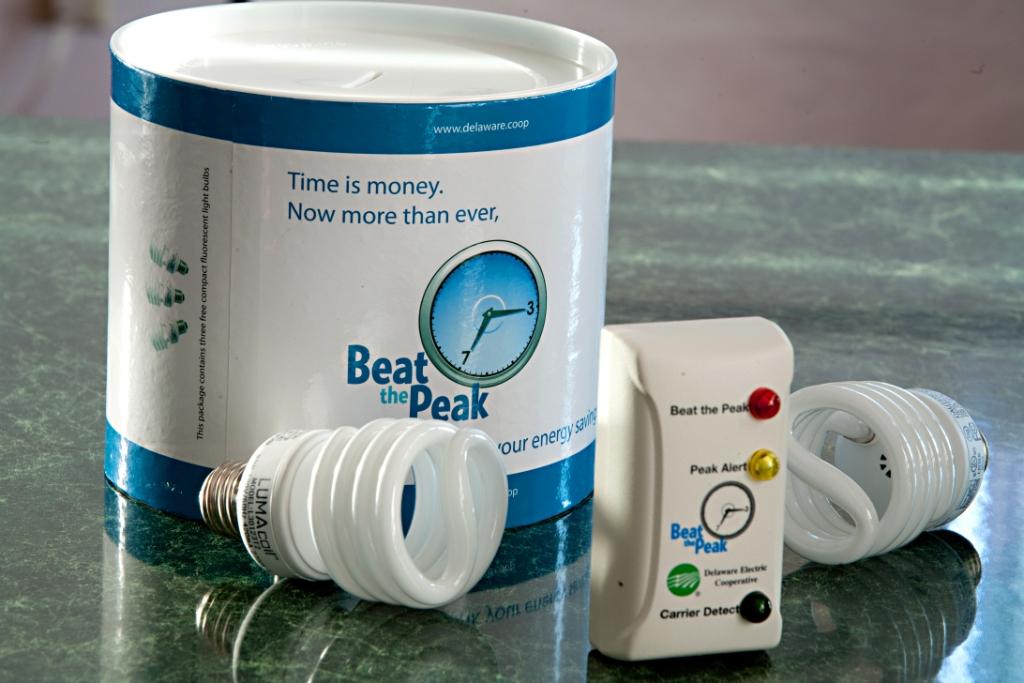 I really want to help but I forget about Beat the Peak when I get home! How can you help me remember when to cut back?
Your cooperative has been working with Cooper Power Systems, a major provider of Smart Grid Solutions, to develop a Beat the Peak light which you can plug into your kitchen counter and we can turn it on during Beat the Peak periods. This device allows your cooperative to send real time pricing signals to our members so they can reduce the energy consumption immediately. The cost is free to our members who wish to install and use the device to help keep our energy cost low, our environment clean and allow us to save valuable energy for our future. Give us a call at 302-349-9090 or send us an email to request your Beat the Peak Indicator Light right away.
Together we can work together to provide the best energy value for our members now and in the future!