Crock Pot Pecan Pie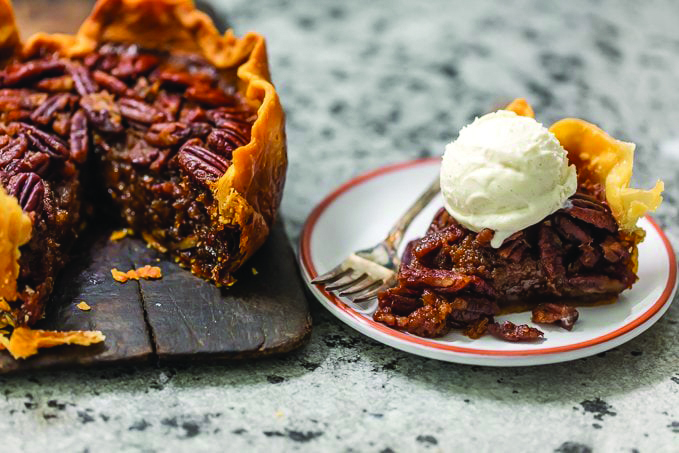 1 1/2 cups chopped pecans (plus some pecan halves for decoration)
1 Reynolds Slow Cooker Liner
1 refrigerated pie crust
4 eggs, lightly beaten
1 cup corn syrup
1 cup sugar
1/3 cup salted butter, melted
1 1/2 teaspoons pure vanilla extract
1. Preheat oven to 350F. Place pecans on a baking sheet and toast for 5 minutes or until browned. Set aside.
2. Place the slow cooker liner in your slow cooker (you can use a small round slow cooker for a deep dish pie or a 6 qt oval for a thinner pie) and place pie crust in the bottom. Press down the bottom and each side to fit the bottom of the cooker. Use your fingers to press the very top of the crust into the slow cooker liner to make sure it adheres (so it won't slump down into the pie later)
3. In a medium bowl, stir together the beaten eggs, corn syrup, sugar, butter, and vanilla. Whisk until smooth. Stir in the pecans, reserving the halves for top.
4. Pour the pie filling into the slow cooker/pie crust. Top with some pecan halves as you wish to decorate.
5. Cook on high for 3 hours (halfway through, give the liner a turn to rotate, taking care because the pie will not be set yet. This is optional but will help when removing later)
6. Turn off the cooker and allow the pie to cool completely before removing/cutting. 
7.Serve with vanilla bean ice cream if desired!
*Note: if you don't allow the pie to cool completely it could fall apart when removing from the slow cooker or cutting. If you like to eat your pecan pie hot, you can microwave individual pieces to avoid the entire thing not keeping form.