Sausage Balls With Apricot Dipping Sauce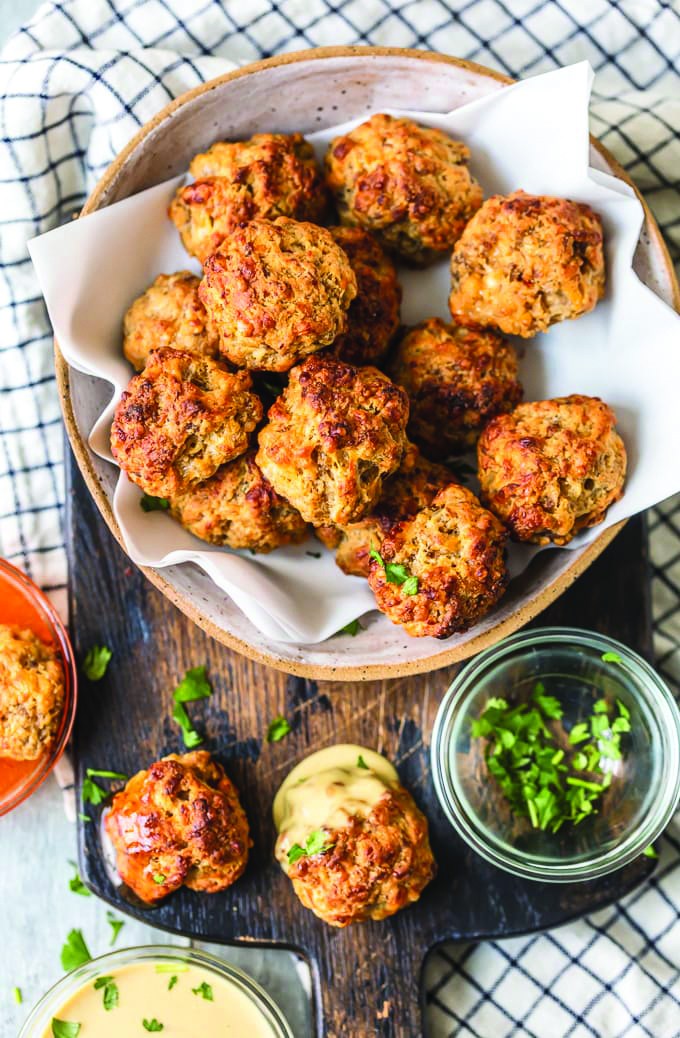 FOR THE SAUSAGE BALLS:
1 pound bulk sausage, Jimmy Dean works well, room temperature
10 ounces sharp cheddar cheese grated, room temperature
2 cups Bisquick baking mix
2 tablespoons Sweet Chili Sauce or Hot Pepper Jelly room temperature
FOR THE APRICOT SWEET CHILI DIPPING SAUCE:
½ cup apricot jam or preserves
¼ cup sweet chili sauce Juice from ½ lemon
FOR THE SAUSAGE BALLS:
1. Allow all ingredients to come to room temperature.
2. Heat oven to 400°F. Cover a rimmed baking sheet with foil and spray the foil with nonstick cooking spray.
3. In a large bowl, combine sausage and cheese and mix well. Add the baking mix and Sweet Chili Sauce and mix, on low speed, until smooth. The mixture will be somewhat dry.
4. Roll/press the "dough" into 1½-inch balls (by hand) and place 1-inch apart on the prepared baking sheet.
5. Bake at 400°F 10-12 minutes or until golden brown.
6. Transfer the Sausage Balls to a paper towel-lined platter.
7. Serve with your choice of dipping sauces.
FOR THE APRICOT SWEET CHILI DIPPING SAUCE
1. Mix all ingredients together in a medium bowl and press (with a rubber spatula) through a fine mesh strainer.
2. Keep refrigerated in an airtight container up to 1 month.