Zimmerman Represents DEC At Youth Leadership Council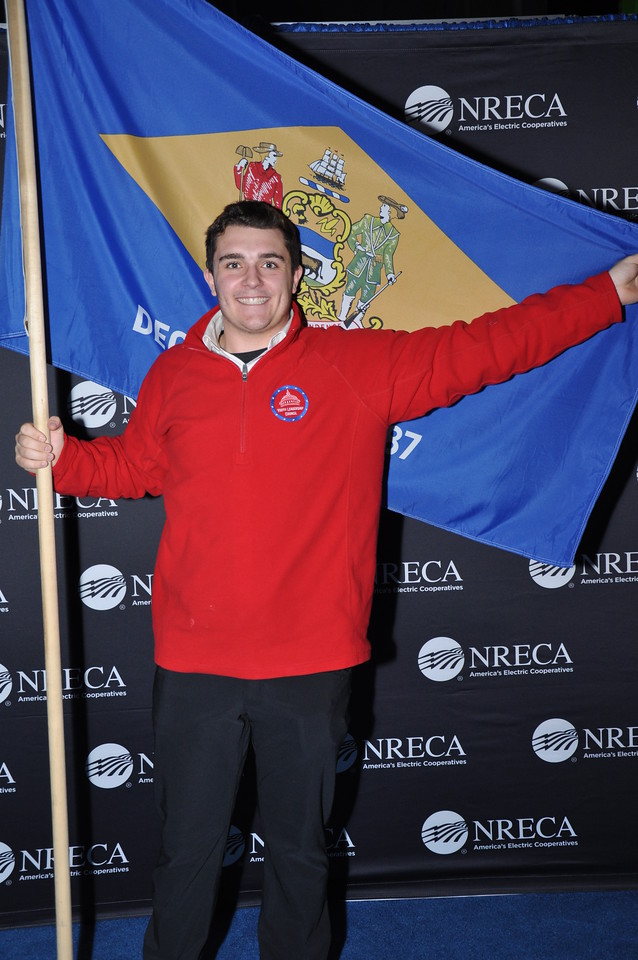 Dane Zimmerman, a 2017 Electric Cooperative Youth Tour participant whose parents are members of Delaware Electric Cooperative (DEC), traveled to Nashville, TN in late February for the National Rural Electric Cooperative Association (NRECA)'s 76th Annual Meeting.
As his state's representative to the national Electric Cooperative Youth Leadership Council (YLC), Zimmerman participated in the Parade of Flags held during the opening session. Aaron Lay, a senior at Sequoyah High School in Tennessee who was chosen as YLC spokesperson, then addressed electric cooperative leaders from across the nation about his experiences in Washington, D.C. during the Electric Cooperative Youth Tour the previous June.
"Having the opportunity to stand on the steps of the Lincoln Memorial where Dr. Martin Luther King, Jr. delivered the famous 'I have a Dream' speech inspired me that I, too, a rural farm kid from East Tennessee, have a dream as well," Lay said.
More than 6,000 representatives from electric co-ops across the nation attended the annual meeting, which sets NRECA's organizational and legislative agenda for 2018. Co-op representatives also heard from NRECA officials, key public figures and business experts about issues affecting electric cooperatives and their consumer members.
"I'm constantly impressed by the ideas and enthusiasm of our youth tour participants," NRECA CEO Jim Matheson said. "Youth Tour is one of the brightest spots in the electric cooperative movement. The future of our nation is in good hands with leaders like Aaron involved."
While in Nashville, YLC participants engaged in leadership workshops, networked with leaders in the cooperative community, and participated in a community service project.
"Youth Leadership Council participants are an inspiration and are among the best and the brightest students from across the nation," said Kevin Yingling, chaperone for DEC's Youth Tour delegation. "As part of the YLC, these students will continue that education as they build out their network and make connections with others from across the country that will last a lifetime. Our youth are our future, and we're proud to continue giving them the tools to succeed."
More than 1,700 students from across America take part in the Electric Cooperative Youth Tour each June. While visiting the nation's capital, they meet their U.S. Representatives and Senators, and one student from each state is selected by their chaperones and peers to serve as its YLC representative.