Skip to main content
Outage Alerts Delivered Right to Your Phone!
Sign up to receive outage alerts via text message when your power goes out. You'll also receive text messages when crews report an estimated restoration time for your outage and when power at your home or business is restored.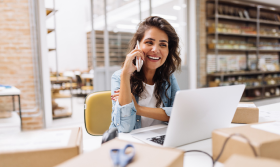 1. Log into your online Co-op Smarthub account. Don't have one? No problem! Go ahead and sign up. You can also sign up using DEC's App, DEC Connect. Once in the app, click on the "More" icon at the bottom of the screen. Click on "Settings" and then "Manage Notifications." Then, click on "Service" and you'll be able to sign up for the outage alerts you'd like to receive.
2. If signing up for alerts from a desktop, once you log into or set up your account, click on "Notifications" at the top of the page and then click on "Manage Contacts" on the drop-down menu.
3. You'll be able to add an email address or a cell phone number where the Co-op will automatically send outage alerts. If you've already added a cell phone number and/or email address, you will see them listed on the page. After you add a contact, you should receive a verification code via email or text message.
4. Verify your contact information by entering the code into the box provided.
5. Click again on "Notifications" at the top of your Smarthub account page. Then click on "Manage Notifications" in the drop down menu. Next, click on "Service." You can check up to three boxes to receive alerts when the power goes out, when an estimated restoration time is established and when power is restored.