Skip to main content
About Our Cooperative
Delaware Electric Cooperative is a progressive not-for-profit utility serving more than 112,000 homes, farms and businesses in central and southern Delaware. We are committed to providing members with affordable, reliable and sustainable power. We are focused on the communities we power because we are part of those communities. DEC is also focused on the future, which promises to bring extraordinary changes to the energy industry. Co-op leaders are proud to be taking a proactive role in shaping this energy revolution and are dedicated to making sure members have reliable, affordable, safe and sustainable energy for years to come.
We're working hard to reduce our carbon footprint and are building a more sustainable and resilient network of power lines and substations. Cooperative leaders are providing members with the tools they need to conserve energy, all while maintaining the Co-op's position as one of the most affordable energy providers in the First State. The cooperative business model is unique. As the only electric cooperative in Delaware, we give excess revenue back to our consumer members. Our leaders are members and so are many of our employees. We're also part of a national network of hundreds of energy cooperatives that help each other during major storms and work together to develop innovative solutions to challenging problems.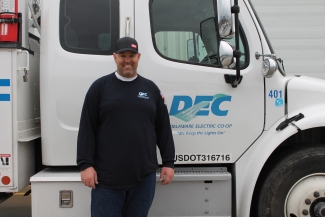 Why Work at DEC
DEC has been named one of Delaware's top workplaces and we offer competitive pay and exceptional benefits. Employees are expected to treat members and their DEC family with respect and to be focused every day on doing what is in the best interest of the communities we power. Many of our employees have been serving members for decades and we pride ourselves on helping our team grow professionally while exploring their passions. If you have a strong work ethic and are interested in serving your neighbors, please considering applying to work at DEC. Check this page often for current openings.
Journeyman Lineman
DEC is seeking a full-time Journeyman Lineman to help maintain our Cooperative's electrical system while proving exceptional service to our members. 
Join our team today and apply now!
Journeyman Lineman
System Dispatch Coordinator
DEC is seeking a full time System Dispatch Coordinator responsible for communicating between the Cooperative and its Members/Owners, responding to member/owner complaints and concerns, monitoring operational equipment during each shift, communicating with all personnel relating to outages reported by phone, and other outage monitoring system and alarm devices. The shift hours are 4:00 pm. to midnight. 
Join our team and apply now! 
System Dispatch Coordinator
DEC Internship Program
Our member-owned cooperative is always looking for the next generation of exceptional employees. DEC's internship program is designed to provide college students with an immersive summer experience.