Skip to main content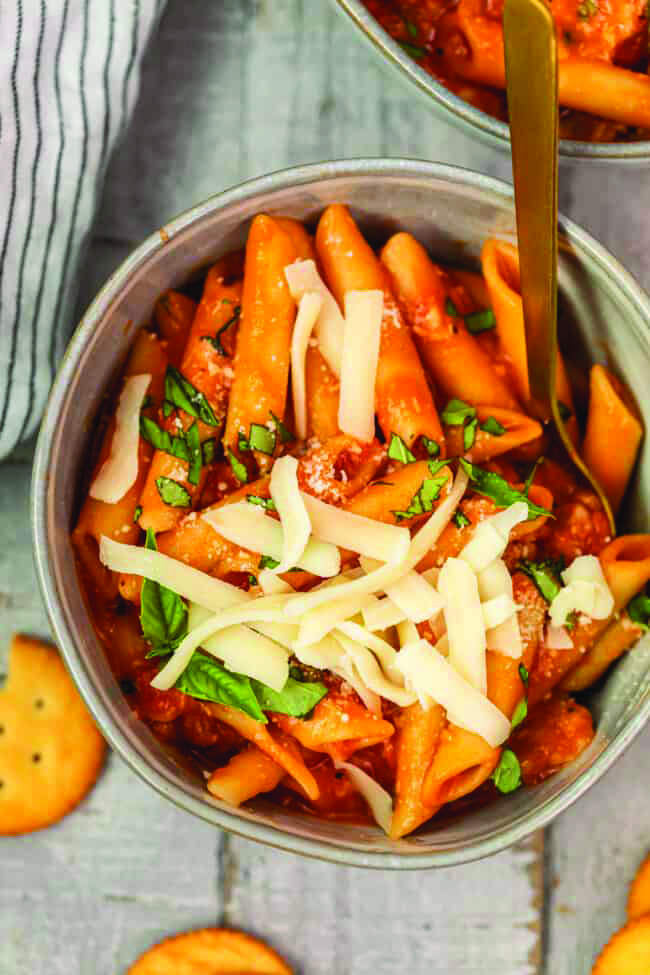 1 tbsp. extra-virgin olive oil
1 large onion, chopped
3 cloves garlic, minced
3 tbsp. tomato paste
1/2 tsp. crushed red pepper flakes
1 1/2 cup diced tomatoes
6 cups chicken broth
Salt and pepper to taste
8 oz. penne pasta
1 lb. cooked rotisserie chicken, shredded
1 1/2 c. shredded mozzarella
1 cup freshly grated parmesan
2 tablespoons chopped fresh basil
1. Heat oil in a large dutch oven over medium heat. Add onions and allow to saute until soft and fragrant, about 5 minutes. Add the garlic and cook for one minute more.
2. Stir in the tomato paste, red pepper flakes, diced tomatoes, and chicken broth. Bring to a simmer.  Add salt and pepper.
3. Add the pasta and allow to cook for 9 minutes, stirring occasionally.
4. Once the pasta is al dente, stir in the shredded (cooked) chicken, shredded mozzarella, and grated parmesan. Stir in the fresh basil.
5. Once the cheese has melted, serve hot. Garnish with more basil and serve with crusty bread.
6. Enjoy!