Skip to main content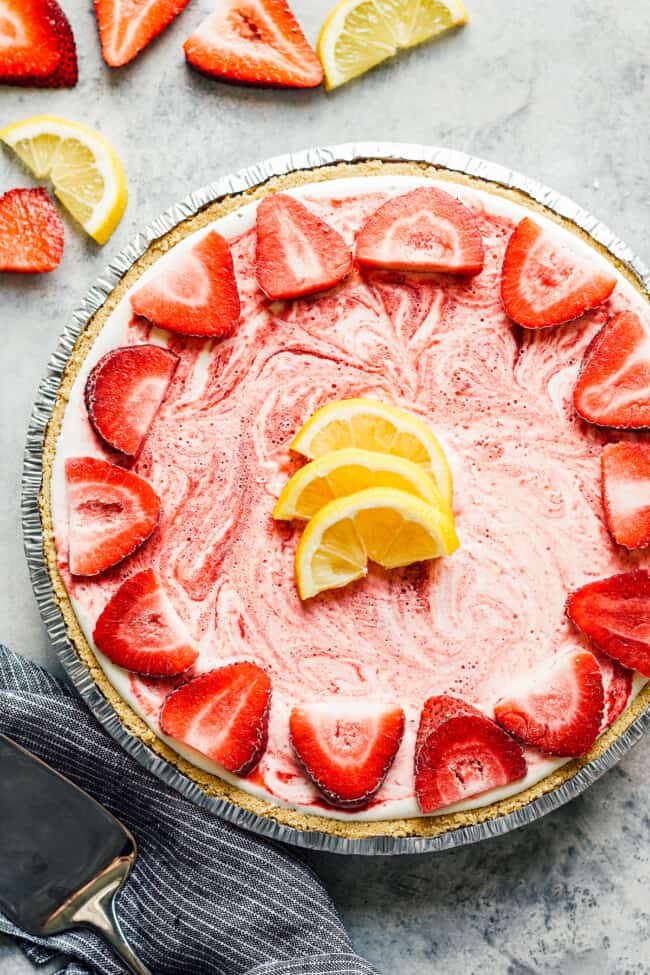 Ingredients
2 cups strawberries, frozen or fresh, chopped
1/4 cup sugar
8 oz. frozen whipped topping, thawed, regular-sized tub, low-fat works fine
12-ounce can lemonade concentrate, thawed
12-ounce can sweetened condensed milk, low-fat works fine
1 premade graham cracker crust
lemons and strawberries for garnish
Instructions
In a food processor, combine strawberries and sugar. Pulse until well mixed. Set aside.
In an electric mixer, combine whipped topping, lemonade concentrate, and sweetened condensed milk with the paddle attachment. Mix until smooth and creamy.
Pour lemonade mixture into pie crust.
Pour strawberry mixture over lemonade mixture and swirl the top using a knife. (You may not need to use all the strawberry mixture, depending on the size of your crust. Pour a bit at a time so as to not overflow the crust.)
Freeze for approximately 8 hours or overnight, until well frozen.
Slice and serve!