Skip to main content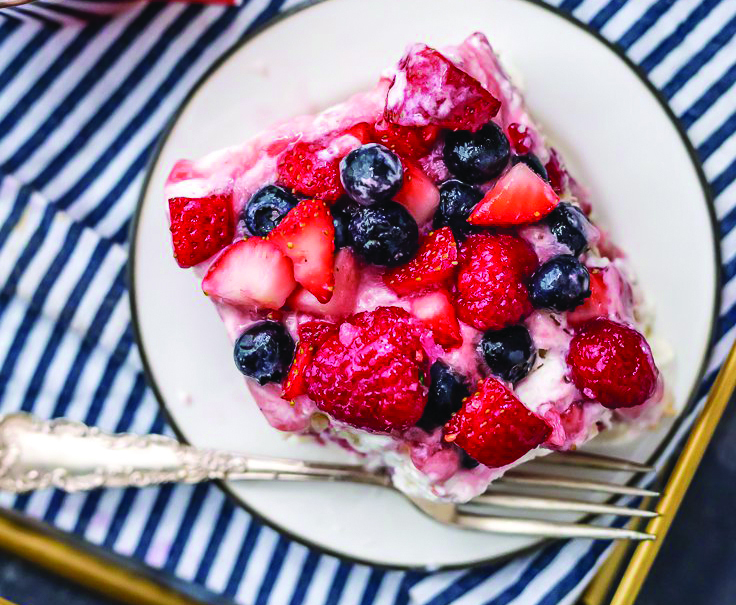 Ingredients
20 lady fingers (1 package) 
1 1/2 cups heavy cream
8 ounces mascarpone cheese
1 cup white sugar, divided
1 teaspoon vanilla
5 tablespoons Chambord (raspberry liqueur), divided
2/3 cup strawberry jam or jelly
1 1/2 cups sliced strawberries
1 cup fresh raspberries
1/2 cup blueberries
Instructions
Spray a 9x9 baking dish with nonstick spray
Place half of the lady fingers on the bottom of the pan, side by side. I used 10 on the bottom, 2 rows of 5.
In a large bowl, beat the heavy cream until soft peaks form, about 3-4 minutes.
Beat in the mascarpone, 1/2 cup sugar, vanilla, and 2 tablespoons Chambord. Beat until fully combined and smooth. Set aside.
In a separate small bowl, stir together the jam/jelly and the remaining 3 tablespoons Chambord. Set aside.
In yet another bowl, mix together all of the fruit with 1/2 cup sugar. Stir to coat all the fruit; macerating the fruit and allowing some juices to form. Set aside.
Start my smoothing half of the cream mixture over the lady fingers. Use a spatula to smooth out the layer. Top with half of the jam mixture and use a fork to incorporate the jam into the cream. Top with half of the fruit.
Repeat the layers, starting with ladyfingers, cream, jam, then fruit.
Cover and refrigerate for a minimum of 4 hours.
Serve cold.
Enjoy!