Proud to Power
Learn About the People & Places We Power!
Proud to Power
Delaware Electric Cooperative
Beat the Peak
Since 2008, DEC's Beat the Peak program has saved members over $38 million! Learn how you can start participating in Beat the Peak today!
During times when the cost to purchase and produce power for members is high, we issue Beat the Peak alerts where we ask members to conserve energy. The money saved is passed on to our members in the form of affordable rates.

Lower my Energy Use
Complete your energy profile for money saving tips, bill analysis, your energy forecast and more.
Lower my Energy Use

Beat the Peak with EVs
Charge your EV during off-peak times to keep energy costs affordable.
Beat the Peak with EVs

Home Energy Audits
Make your home more energy-efficient and receive significant discounts.
Home Energy Audits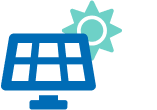 Community Solar
Learn how to power your home with renewable energy without the hassle of a costly system.
Community Solar
Start or Transfer Service
We are committed to providing safe, reliable and competitively priced energy services and empowering our members to improve their quality of life. Join the Delaware Electric Co-op family and let us help you start or transfer your service.